jeste igrali belu van nasih granica.
Evo ja sam ovih dana malo igrao u inozemstvu.
Trebalo mi je malo vremena da sve skopčam i posložim.
Igre su sledeće:
-bela sa zvanjem
-bela bez zvanja, vredi samo bela (20)
-nekakav coursar, il tako nekako
Sa zvanjem i bez zvanja to vam je jasno no ovaj coursar vam ide ovako:
pita se prvoga sta ce zvati i on kaze neku farbu te kaze koliko ce napraviti 80 do štiglje, onda drugi kaze da ce napraviti recimo 90 u nekoj drugoj farbi pa treci i cetvrti i tako. Ako kiksas bodovi idu protivniku.
Ono sto je drugacije je to da nemoras iberovat i ako tvoj partner uzme štih ti kao četvrti (4) ako i nemaš tu farbu nisi dužan sjeć niti iberovat. Malo teže za priviknut.
E sada ono najvažnije, a to je da možeš da igraš u lovu i u poene pa ti biraj. Za registriranje dobivas pocetnih 10000 centi i sa time igras. Ako igras u bodove pocinjes sa 1600 bodova. Ima igraca sa svih delova sveta
Evo i linka :
www.gametwist.net
evo i slika: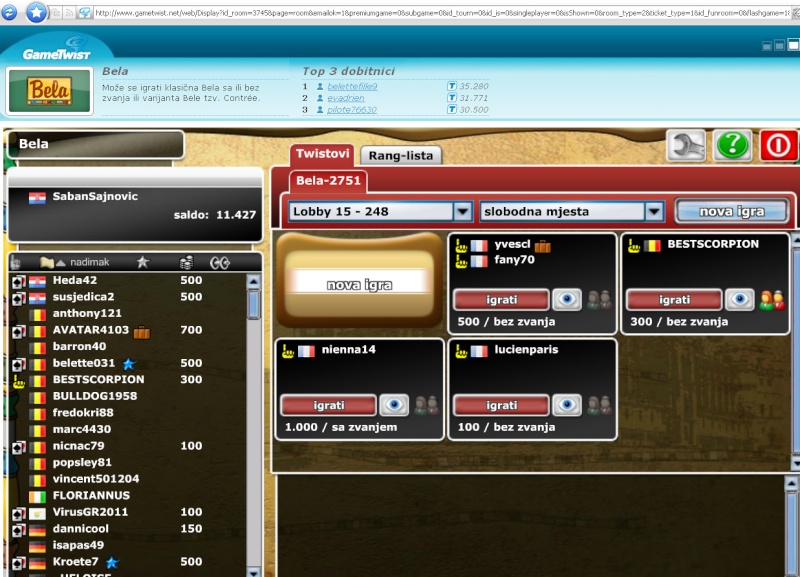 ima prevod potpuni. Dakle sve sto pise pise na tvom jeziku.
_________________